FOREWORD BY MILOŠ TEODOSIĆ…
"Through the extensive experience of our coaches and my own experience, we came up with the program in line with which TEO4 will work and that will be – I'm sure – the best possible assistance to young players and at the same time their school of life. As I have always been trying to ease the way to the basket for my teammates providing the timely assists, now it's my goal to be a good assistant to each participant of our camp…
… It's only up to you to pass the ball through a hoop… "
SHIFTS 2023.

I shift: 25.06. – 02.07
II shift: 02.07. – 09.07.
III shift: 09.07. – 16.07.
IV shift: 16.07. – 23.07.
V shift: 23.07. – 30.07.
Our mission is to ensure that TEO4 becomes in its field just as successful as Milos Teodosic on the floor. And that each participant leaves the Silver Lake filled with new knowledge, extraordinary experience and nice memories. To be a small step that may become a turning point in the life of young athletes. The training program created by Milos Teodosic in cooperation with a team of top experts, will allow each student to give his maximum.
At our camp, TEO4, in addition to working on the development of technical and tactical abilities of the basketball game, with our professional coaches, we also deal with the development of motor coordination skills of our campers as well as functional basketball skills. Our professors of physical education are in charge of this part of the activity at all times, according to the plan and program.
Moreover – this camp offers an unforgettable experience with some of the biggest stars of basketball, unique sports equipment, as well as awards for the best students in various categories.
Milos Teodosic was trained by the top coaches – TEO4 cooperates with the top coaches… Milos Teodosic plays with the top players – TEO4 brings the top players to the camp to demonstrate their skills … All this in a unique environment and with people who know how to reach success…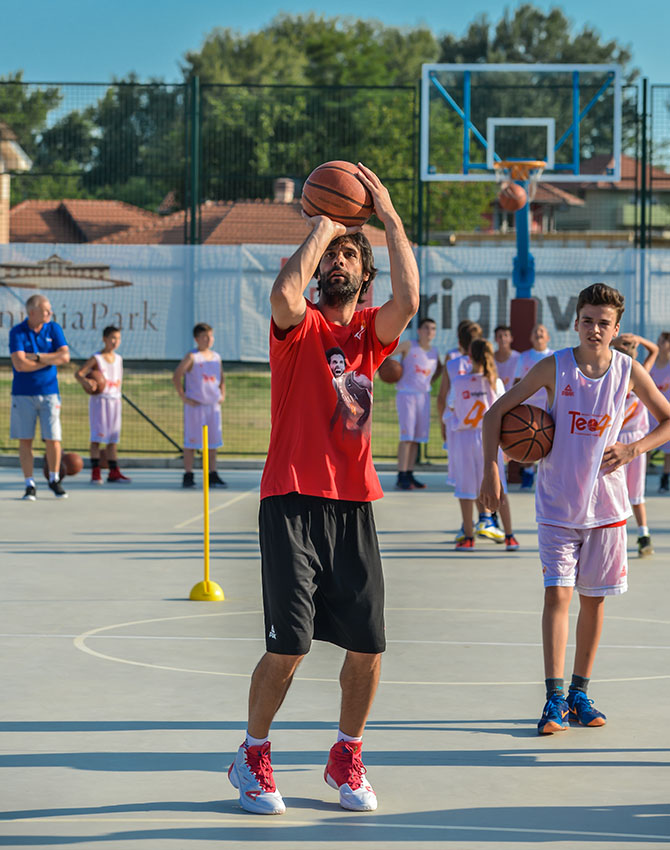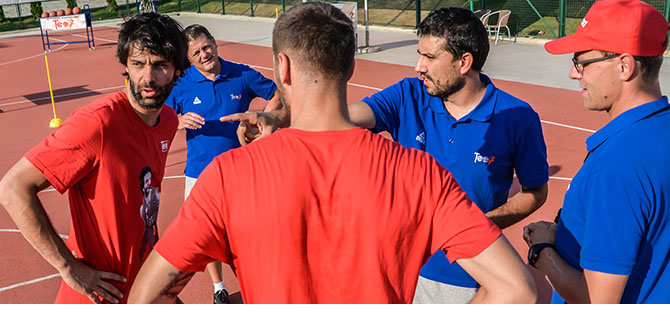 CAPACITY AND DURATION OF THE CAMP
120 attendants per shift
8 days
Resort TEO4 capacity of 120 participants
Basketball courts are in front of the resort
At four TARTAN courts with 15 participants each
1 court – 1 coach and his assistant
The doctor and physiotherapist
Boys and girls from 9-17 years old.
TEO4 equipment:
Uniform (jersey-short) reversible + 2 t-shirts + 2 shorts
Organized transport:
Belgrade – Srebrno Jezero – Belgrade
Aqua club
Health insurance
Free participation in the camp 2024.
Parent's consent to participate in the camp
Doctor's certificate
Dobropoljska 1a, 11000 Belgrade
Mobile: +381 66 836 4444
Working hours: Mon-Fri 09-17
SPONSORS OF THE BASKETBALL CAMP TEO4